I have travelled the world for 2 years with a dress and 2 tank tops. I tend to prefer them over t-shirts as I find them more versatile. There are easier to layer under a merino dress if it is chilly, are super comfy to sleep in and yet they can be worn on their own to work out or all day long paired with a short.
However, if you want to know the top 3 Women's t-shirts we recommend, click here. Otherwise, have a look to our selection of the best ones below, ordered by style.
Best classic tank tops
Those are great options if you are looking for something of general active pursuits, that can work as a base layer in colder temperature, as a stand alone summer tank top and also be comfortable for your yoga or fitness routine.
Our pick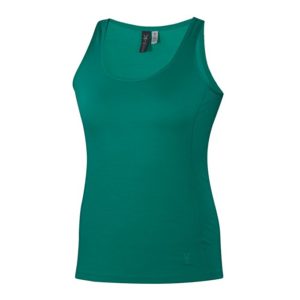 Fabric: 87% Merino wool, 13% Polyester
Fabric weight: 4.28 oz / Square Yard
Price: From $25
This top works great as a camisole for layering, simple for workouts but also just looks like a regular tank, and doesn't have seams that are too sporty so it can be worn for non-workout activities as well.
People particularly like the length of it and even if it is great as a layering piece, it has enough coverage for bra straps to be a wear-alone tank.
See more color options on Moosejaw website | Check Price on Amazon
---
Icebreaker Merino Women's Siren Tank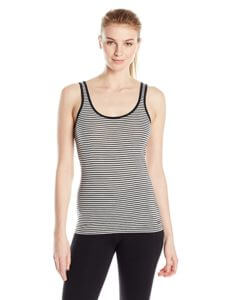 Fabric: 83% Merino Wool, 12% Nylon, 5% LYCRA®
Price: From $35
Another major great choice for travel adventure. A tighter fit with plenty of color options. Like often, I really like the stripes for a daily casual wear. Disclaimer: I am french!
If you are planning to wear it as a summer tank, consider avoiding the 'Snow' as it is a little see-through in white.
Check on Amazon
---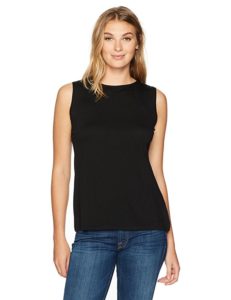 (Discontinued) Ibex Women's Merino Wool Essential Tank Top
Fabric:Ultra-fine merino and silk blend shell tank
Price(estimate):From $50.00
People have reported the fabric to be particularly lovely: thin and silky.
A nice boat neck cut (higher than usual tank tops) with a good shoulder coverage which can be handy with a heavy backpack. However, this piece is versatile enough to also be worn to the office or even out to dinner.
Check on Amazon
Best Working Out and Exercise tank tops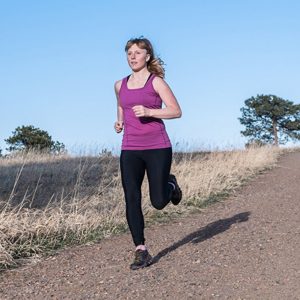 Tank tops in merino wool are awesome to work out in are because they are very breathable and literally won't smell. However, as fashion is not our primary goal when we train, we favored here a budget selection. However, for those who wants both of both world, you will find a more stylish alternative under the recommended one.
Our pick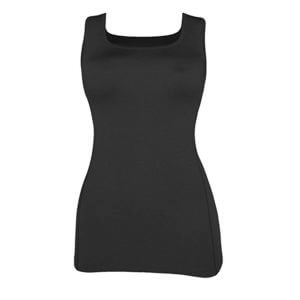 Fabric: 100% Merino Wool
Price (estimate): From $30.00
While it is a fairly loose fit, it is more form-fitted than on the models due to the seams on the side. It is machine washable which is an important plus for clothing wore to work out, even though the fact that it is 100% merino will make it particularly odor resistant! Minus33 have a great quality to price standard which makes them a good choice for simple sportswear where style is not your main priority.
---
Alternative
---
WoolX Women's Ella Racerback Lightweight Tank Top – No Itch Merino Wool
Fabric: 100% Merino Wool
Fabric weight: 160 g/m2
Price: From $24.00
Racerback tops are great for more sporty activities. You might have to consider what bra to wear with it depending on how narrow the racerback is. The Ella tank very popular racerback top from a upward going brand as it is generally cheaper than most. Because it is 100% merino, this top is particularly resistant to funky smell. However, the upper chest area is lined with viscose and spandex to provide extra support even if there is no built-in bra). People have reported the shape being very flattering. Exists in several colors.
See on WoolX | Check price on Amazon
---
Alternative:
Ibex Women's Merino Wool Balance Tank Top. A nice racerback top, very flattering too. The quality of Ibex shows in the fact that it is seamless. As Ibex has closed down their business, this is one of the last model still available.
70% Merino Wool, 24% Nylon, 6% Elastane
Price (estimate): from $45
Check price on Amazon
---
Special yoga
I have found an interesting brand on Etsy called VieletMerino. There merino handmade tops seem popular among yogis. It looks very nice and is machine washable.
96% Merino Wool, 4% Spandex
Check Price on Etsy
Best casual lifestyle tank tops
How awesome is it to be also be able to wear high quality pieces of garnement in terms of performance in day to day life. Here are tops that you can wear all day regardless of you wandering through new cities in Europe of going to the office. Because Merino wool is different than any other wool, you can safely wear those in the summertime!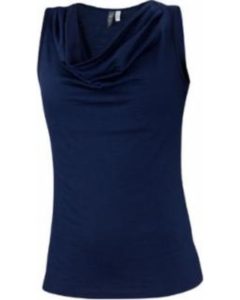 (Discontinued!) Ibex Merino Wool Women's Aria Tank
Fabric: 87% Merino Wool, 13% Nylon
Care: Machine washable
Price (Estimate): From $35
This is the nicest merino tank at the moment and it that can easily be dressed up or down. A very elegant draping sleeveless top which is very flattering and comfortable at the same time. It exist in several colors.
Check price on Amazon
---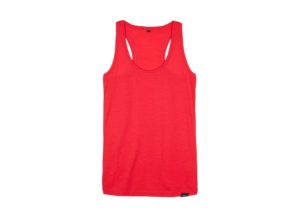 Finisterre Zephyr Vest
Fabric: 80% Superfine Merino, 20% polyamide
Price: £35.00 (Sometimes sales at £15)
Care: Machine washable at 30°C
I love this UK brand. I have travelled the world with 2 tank tops and this one was one of them. While Finisterre's wool quality is not as good as Icebreaker yet – I have an older version that started peeling after a couple of months but their new version promise to be better. And more importantly, their clothing line suits my fashion style much better. Because they are so easy to wear as street clothing, I just buy a new one with each new collection. It has a larger racerback, (you might have to consider what bra to wear it) and is perfect to wear on its own or layer up for additional warmth. They have it in different colours, renewed every seasons.
See on Finisterre
---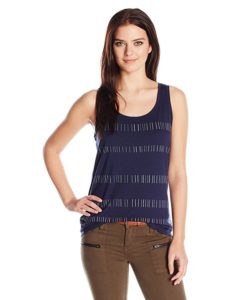 Icebreaker Women's Tech Lite Tank Tracks
Fabric: 87% Merino wool, 13% Nylon
Price (Estimate): From $35
Tech Lite shirts are part of the Lifestyle collection from Icebreaker. While they have all the same high standards in terms of quality than their hiking gears but provide a more casual wear. It is basically the perfect mix for travelling. They also have them in a wide variety of designs so you can fine that suits your style, such as the Shearwater or the Crystalline.
Check on Amazon
Best thin straps tops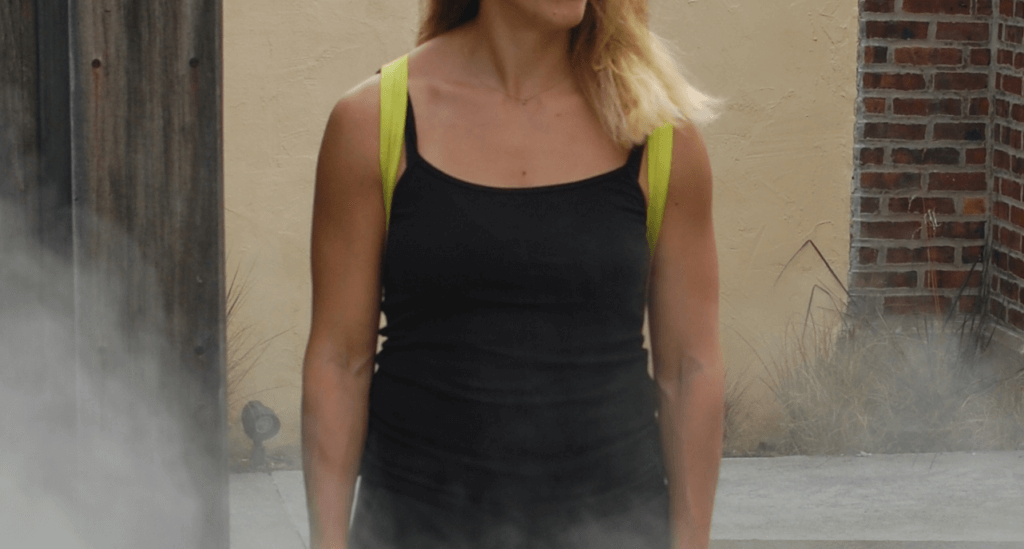 Thin strap tank tops are ideal to be used both as base layers as well as summer tops when combined with a simple bra. The fact that you can adjust the length of the straps is nice, especially for the ones who always have issue with armholes.
Our pick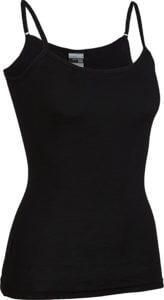 Fabric: 100% Merino Wool
Fabric weight: 200 g/m2
Price (Estimate): From $35
I have it in black and after 2 years of intense use on the road, I have ordered another one that I wear pretty much daily through the cold winter of Berlin, Germany. I love it. The fabric is 200 Lightweight and I have to say thought that in the summer, I wear it with an almost seamless black bra as it can be a bit sheer, but never to the point I would feel really embarrassed either. Because it is 100% merino, it has been stink free in strenuous exercise situations and is the best value out there.
Check Price on Icebreacker | Check on Amazon
---
Others available on the market:
Another good option would be the
Smartwool Strappy Tank
is also a 100% merino top. It is available in coral which is very nice. However it is a racer back straps which can be less versatile for layering.
Camisole are great as base layer for those cold days or as a pyjama top for sleeping at night.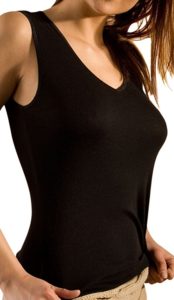 Hocosa Organic Wool-Silk Undershirt for Women
Fabric: 70% organic merino wool, 30% silk
Price (Estimate): From $50.00
Having a mix blend of merino for its warmth and anti-odor property and silk for its softness on our skin is ideal for a camisole that brings extra cosiness. That is why we recommend the Hocosa Undershirt. It is longer than base layers you could also wear alone so it stays tucked it even into low-sitting pants. Very lightweight so it is invisible under your other piece of clothing. They do recommend to hand wash only. On the plus side, it will be dry in a couple of hours.
Check on Amazon
---
Alternatives
Janus is another brand that proposes a soft Merino wool / Silk combo. The armholes are wider, the price is a bit higher but they do indicate that it can be wash in the machine while Hocosa recommends to hand wash their Undershirt. As it contains more merino (85%), one can also assume that it is more odor resistant.
Check on Amazon from $65
---
The
Icebreacker Siren Cami
would also me a safe choice in terms of quality as an undershirt. They don't have silk but a blend of 83% Merino wool and stretch material and won't be quite as invisible under your other clothing as the Hocosa Undershirt but the Snow version with the
Siren panty-bikini
is an extra cute ensemble.