Below I broke down the most popular men's merino wool underwear according to the various different styles.
What to look out for when buying merino underwear for men:here are a few features you can look out for when buying boxers or briefs in merino.
Best Boxers
Our pick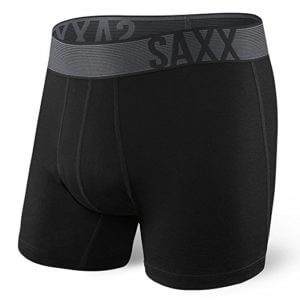 Material: 95% Merino Wool, 5% Spandex
MFabrik weight: 185 g/m2
Price range (estimate): $45
Machine-washable and dryable, tough materials and nice design are all plus points on these boxers. These boxers have a shorter in-seam, so if you have larger thighs, they may ride up.
See on Saxx | Check price on Amazon
---
Also great: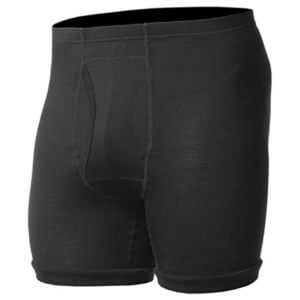 Material: 100% merino wool at 170 g/m and 17.5 micron fabric
Best for: works as a base layer
Care: Maschine wash cold and tumble dry on low
Price range (estimate): $26.99 – $44.99
Plus points for these merino underwear are the fact that you can machine wash and dry them. Secondly, if you prefer a longer inseam, these will be a better choice than the Saxx boxers.
The lack of an elastic waistband can make it a little less flexible and comfortable for some to wear.
---
Best Briefs
Our pick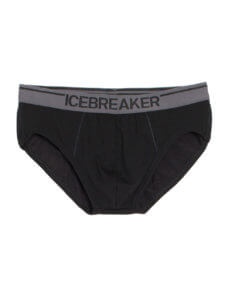 Material: 100% Merino Wool
Care: Machine washable, don't tumble dry
Price range (estimate): $26.25 – $35.00
Merino underwear can have durability issues, so Icebreaker have been trying out composite blends of merino wool with nylon, which they call corespun fabrics.
See on Icebreaker | Check price on Amazon
---
Budget option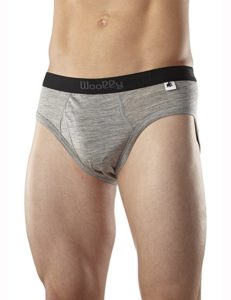 Material: 100% merino wool at 150 g/m2
Care: Machine wash cold and tumble dry low
Price range (estimate): $20
These briefs are very light weight at 150 g/m and they have a low-rise cut, so bear that in mind when ordering. As they are 100% merino wool, they may have more durability issues than the Icebreaker briefs, but they will also have even less odor issues.
See other on Woolly's site| Search other Woolly briefs on Amazon