Hunting is an amazing sport, but it also can be very cold one.
You're spending hours in the early morning in freezing temperatures in the hunting blind, not moving a muscle.
There's nothing worse than having to cut a hunt short due to cold or damp clothing.
Not to think of the missed opportunities…
It's no wonder that hunters are on a keen look out for the best technical clothing to keep them warm and dry in any conditions.
And their #1 choice is merino wool hunting clothes, thanks to its unique properties.
Wool is highly breathable, so it wicks away moisture, keeping you warm.
It's also highly insulating, which means it keeps you warm in cold conditions. It also keeps you cool in hot conditions.
It can be layered so you can adjust your temperature depending on your activities and the current temperature.
The Three Layers System
It's tempting to think that the heavier the clothes, the warmer you'll be.
But it's the wrong way to think about it.
Instead, layering clothes on top of each other keeps the clothes close to your skin, trapping pockets of air against your body that will retain your body heat.
And if you go inside or the weather warms up over the course of the day, you'll be able to slip off the outer layers, leaving you comfortable and dry for longer.
In the case of merino wool hunting gear, you'll be best served with the following:
A base layer that stays tight to the skin to wick away perspiration, keeping you dry
A mid-layer for warm and insulation
An outer layer for protection against wind and rain.
A base layer should be from the finest merino wool, as it's touching your skin, so you want to avoid itchy.
Personally, I've never had any problems with 17.5 micron merino wool being itchy. It's silky smooth as that diameter.
The mid-layer need not be as fine, and the outer layer doesn't even have to been made of merino, although options are available.
Base Layer Tops for Men
Our Men's Pick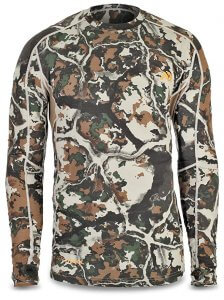 17.5 micron for silky smooth fabric
blend of merino wool with synthetics
range of hunting colors
This top is perfect as a base layer next to your skin. The extremely fine 17.5 micron fabric will ensure that you won't suffer any itching. Flatlock seams likewise reduce chaffing, which is important when you're on the move.
Check Price on Amazon | See on First Lite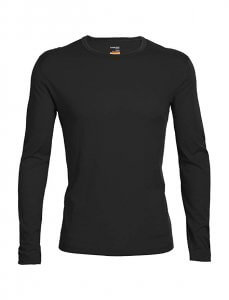 Fabric:100% Merino Wool
Weight:200 m/g2 mid-weight
This baselayer top from Icebreaker is a proven classic over the years. The cut is designed for active-wear with flat-lock seams that reduce chafing as well as a drop-tail back that will the back of the top from riding up on your back. It doesn't come in camouflage, but if that's not a deal-breaker, it's a great choice.
Base Layer Tops for Women
Our Women's Pick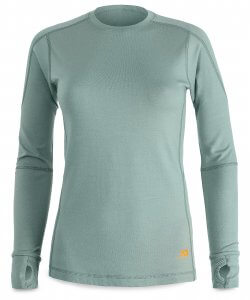 This baselayer top is designed to be worn next-to-skin. Ergo cuffs with thumb loops keep the warm in and the wind out, while flatlock seams help avoid chafing when you're on the move on a hunt. Exists in several colors, including camouflage.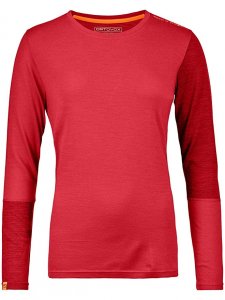 Weight:185 G/m2n for colder days
Material:100% merino wool from Tasmania
Microns:18 microns
Orthovox is a brand specialized in clothing for winter sport athletes. Caro's note: I prefer wearing normal neck base layer for snowboarding and add a merino neck warmer that I tuck into the top.
Base Layer Bottoms for Men
Our Men's Pick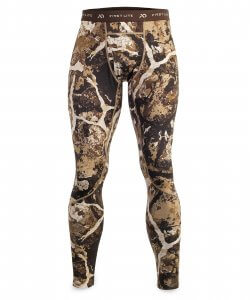 Fabric weight: 200 g/m2
Microns: 17.5 microns
These true-to-size leggings in ultrafine merino wool are designed to be worn underneath pants to keep you warm when spending long hours in early cold conditions out hunting. They come with a fly and have a soft jacquard waistband for comfort.
Check Price on Amazon | See on First Lite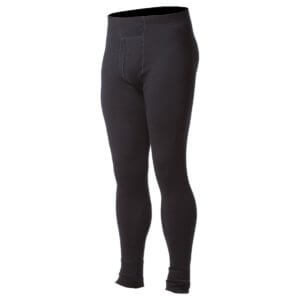 Weight: 170 g/m2 is a lighter choice if you are more active.
Material: 100% merino wool
Microns: 17.5 microns for super smooth feeling
These leggings from Minus33 offer exceptional value-for-money. They are lighter than the First Lite leggings, which makes them a great choice for milder conditions or if you are staying active.
Base Layer Leggings for Women
Our Women's Pick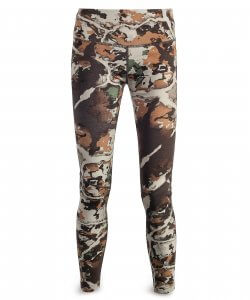 Material: 95% merino / 5% spandex
Microns: 18.5 microns
Check Price on Amazon | Check on First Lite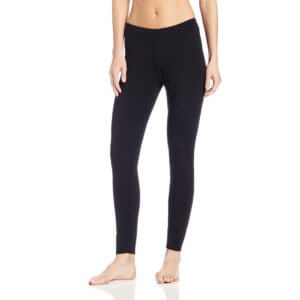 Weight: 230 g/m2
Material: 100% merino wool
Microns: 18.5 microns for super smooth feeling
Minus33 are known for offering exceptional value, and these leggins are no exception. As mid-weight leggings, they are perfect for milder conditions or while active.