Whether you're spending the day cross-country skiing or taking the chair up to zip back down a double diamond slope, Merino wool is, in our view, an essential piece of your gear.
Often described as nature's high performance fabric, merino will breath to prevent overheating and clamminess, keeping you warm and dry without the weight of other fabrics. It fits under other out layers, providing you with freedom of movement.
Below, we've taken our years of experience in the Austrian Alps as well as our love of merino wool to find the best garments to keep you out on the slopes for longer.
If you're already familiar with merino wool, and you just want to see the best 2018 picks, jump directly to our recommendations.
If you want to dig a bit more into why merino and figure out what matters when it comes to choosing the right gear, have a closer look at the FAQ section just below.
What to consider when choosing merino wool for snow activities:
These days, there are a massive amount of options when it comes to merino wool snow gear and even more when it comes to snow gear in general. Here're some tips we put together for finding the right gear.
Best socks for skiing and snowboarding
For skiing or snowboarding, you're best served with a mid-weight socks that go above the cuff of your boots, so you don't get chaffed, but don't extend past the knee.
The reason is that socks that are too high will reduce your mobility. Otherwise, heavier is not necessarily better, as overly thick socks can cause your feet to sweat, which in turn will give you "cold feet" feeling. Very thick socks also reduce the feedback you'll get through your boots.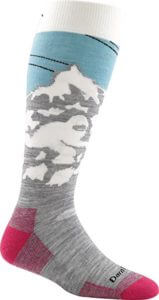 Material: 68% Merino Wool, 28% Nylon, 4% Lycra® Spandex
Rating out of 5 stars: 5
Price range (estimate): $25
Designed for: skiing and snowboarding
Very cute mountain socks with a perfect amount of cushioning along the bottom of the foot. These will keep you warm. Some people have reported feeling tight around the calves though.
Check these socks on Darn Tough's site | Check Price on Amazon
---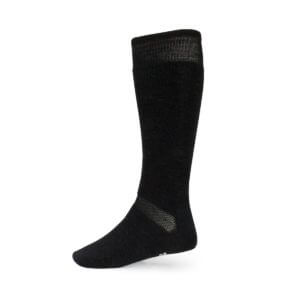 Material: 78% Merino wool, 15% Spandex, 4% Nylon, 3% Polyester
Rating out of 5 stars: 4.4
Price range (estimate): $16
Designed for: skiing and snowboarding
Minus33 is a US-based company that has exploded onto the merino wool scene in recent years. They combine high quality with reasonable prices, and these ski socks are no exception. They offer full cushion for comfort and 78% merino wool to keep your feet warm and dry no matter how many runs you get in.
Leggings
Our Women's Pick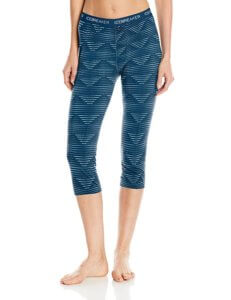 Material: 100% Merino Wool
Fabric weight: 200 g/m2
Best for: Ski and snowboarding
Price range (estimate):$49.59 – $99.99
Oasis is Icebreaker's technical range of baselayers. These leggings are perfect for under snowpants thanks to their 3/4 length. We love how they come in all sorts of graphics.
See on Icebreaker | Check price on Amazon
Our Men's pick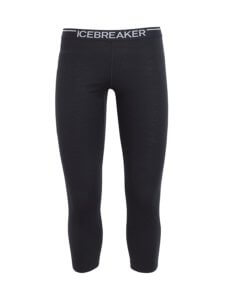 Material: 100% Merino Wool
Fabric weight: 200 g/m2
Best for: snowsports such as skiing and snowboarding
Price range (estimate): $52.83 – $80.00 9
This recommendation is based on my own personal experience with Icebreaker leggings. I've had my current for over four years now, and I love wearing them snowboarding or camping in chillier conditions. They also work great if you're cycling in very cold conditions.
See on Icebreaker | Check price on Amazon
Upper body base layer
Typically a long sleeve merino wool base layer is all you're going to need to wear under your fleece and jacket. That is why we go with long sleeved baselayer when recommending base layers for winter sports.
Now, a couple of things matter to make sure you are comfortable on the slopes: First, flat seams to prevent shaving – especially around the shoulder and armpit and a slightly longer cut so you can tuck it in your leggings or pants and longer than usual sleeves to tuck it into your gloves and make sure no snow sneaks in.
You can even consider thumb loops, but we have found them uncomfortable in the long run to wear on top of the thumb loops already provided by our ski jackets.
Other than that, you can either go for a higher neck neck and additional 3/4 zip like Tom as it allows him to regulate easily his body temperature between rides, or go with a normal one with an additional neck warmer tucked in the baselayer like Caro.
Our Women's Pick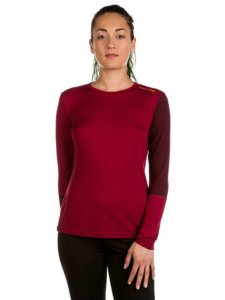 Material: 100% Merino Wool
Fabric weight: 185g/m2
Fiber: Fine 18-micron fiber
Best for: Ski and snowboarding
Price (estimate): $110.00
Ortovox is a brand specialised in clothing for winter sport athletes based in the UK.
I also wear a neckwarmer from Buff when snowboarding. You can find one of their most popular merino wool models on Amazon.
See on Ortovox | Check price on Amazon
Our Men's pick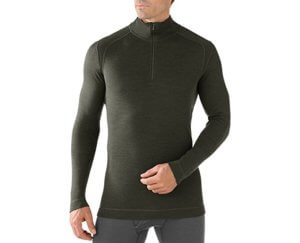 Material: 100% Merino Wool
Fabric weight: 250 g/m2
Feature: Flatlock seam construction designed to eliminate chafing.
Price range (estimate): $94.95 – $100.00
250 g/m2 is on the heavier side for merino. It means that this base layers is best suited for winter conditions and should be enough to be worn direclty under your snow pants and jackets if you stay active. It has a ight fit with a slighly longer torso cut than usual, which makes this baselayer particularly suited for winter sports.