Recommended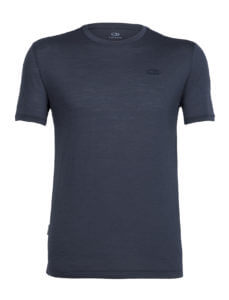 Models & Colors
It comes in plain colors or with graphics on the front. You can also choose between crew necks or v-necks.
See available models on Icebreaker | Check the different models on Amazon
---
I find that the "fit" for merino wool t-shirts can vary wildly from brand to brand. Therefore, I'd recommend that you try a few different brands before you find the one that fits you. Usually you can just send back the t-shirts that don't fit.
I have a guide on the best merino wool t-shirts in 2017 you can check out.
The Fit
In general, this t-shirt is quite form fitting. I'm a tall, skinny guy at 6'3 and 180 lbs, so I go for medium as large is too big at the shoulders.
The Fabric
The fabric itself is quite light at 150g/m2. That means it's designed to be worn all year round.
Originally, Icebreaker did 100% merino wool t-shirts. Now, they use a 87%/13% mix of merino wool and nylon Corespun material. Icebreaker claims that the Corespun t-shirts are 40% stronger than their 100% wool counterparts.
I've worn both, and I have noticed a difference in durability, without any noticeable downsides.
About the Brand
Personally, I'm a big fan of Icebreaker. You can see the Merino Wool Rocks info page on Icebreaker here.