Tom and myself have been traveling as minimalist travelers for over 5 years now.
Being able to jump on a flight for a 3-month long trip with just a 19L backpack is an amazing experience – no bulky luggage to lug around or useless items that you never end up using in the end.
At the same time I was looking at tiny homes – perfectly designed living spaces built with minimalism in mind.
But what if you could combine both travel and tiny houses in one?
Well, that's exactly what #vanlife is all about.
This summer we decided to "test out" van life by renting a vintage VW in Portugal for a surf trip.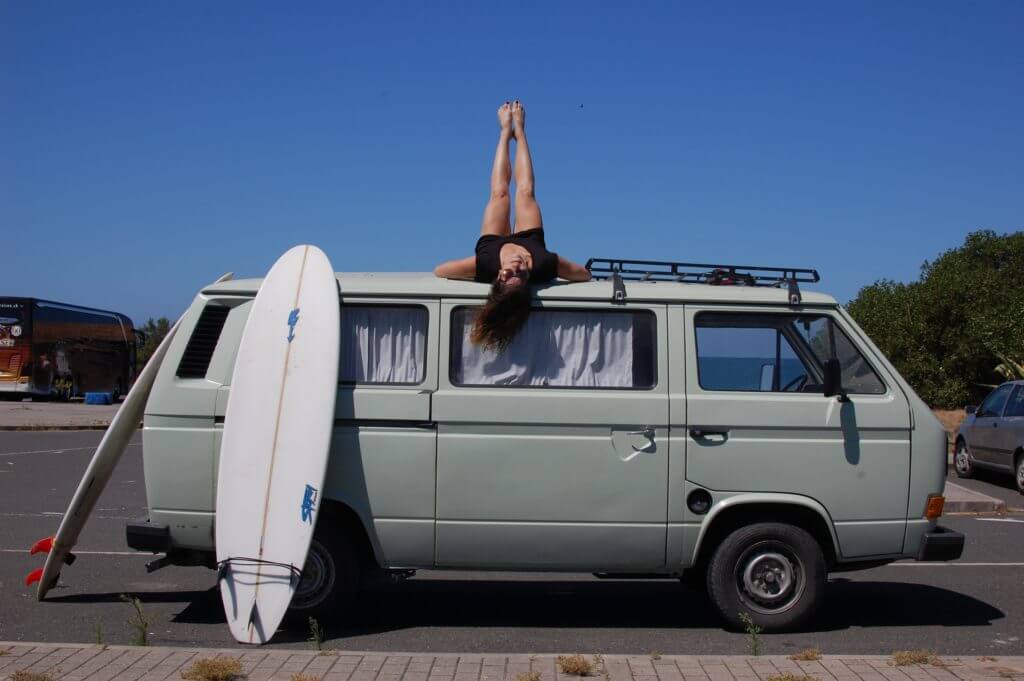 Suffice to say, we're counting down the days until we have our van all to ourselves.
In the meantime, here are some of the best van life instagram accounts you'll find (mine excluded – I don't qualify yet!):
Alison Turner
Alison and her rescue dog Max travel the world while working as photographer for publications such as the National Geographic and many more.
Casey, Ransom and K2
An '86 Westfalia is all these three need to call home on their adventures.
Casey, Ransom and K2 on Instagram
Bertrand Lanneau
Betrand, originally from France, travels around Europe in his VW van taking epic shots, many of which you can find in his book "Drive Your Adventure".
Bryce
Bryce turned an old school bus into a tiny home, while working as wedding photographers who aren't afraid of hitting the road to seek adventure.
David Roth
Did you ever want a van that can truly go anywhere? Well, you might want to check out this beast: a 1964 Unimog. David is an accomplished film director and vanlifer with shots spanning the globe.
Brianna Madia
Her Instagram by-line is "professional weekender", and her snaps will certainly make you spend your Saturday and Sunday somewhere else than your couch – perferably in a big yellow van lost in the desert somewhere!
Sina and Carsten
In 2016 this couple graduated from university, quit their jobs and bought an old VW T4 camper to hit the road through Europe.
Sarah & Bryan
In a van called Copa, this duo travels around North America. Theirtalent for premium guacamole and Mexican condiments proves that van life doesn't have to mean sacrificing great food.
James Barkman
James lived out of a van and then traded it in to live on a bike! He's currently travelling from Alaska to Argentina, and you'll appreciate his background as a professional photographer in his Insta-snaps.
Jessica Lefroy
Jessica travelled with her family accross Europe in a 1987 Syncro Westfalia. You'll find inspiring shots from all across Europe that will inspire you to ship your van over to the old continent immediately!
Jon Gaffney
Jon's work has simple, yet compelling aesthics of shots from the back of his van from his travels.
Juliana + Richmond + Roscoe
Living out of a Ford Transit and hailing from Oregen this couple and their trusty pet Roscue explore the west coast. And if you want to build your own house on wheels, they have a book on just how to do that yourself you can check out.
Juliana + Richmond + Roscoe on Instagram
Kit + J.R. + Sunshine
Living out of their yellow van since 2012, Kit and J.R. have been living the #vanlife before the hashtag even existed! Follow them for pics from accross the US and check out "Orange is Optimism", their book blending a novel and photobook in one.
Kit + J.R. + Sunshine on Instagram
Sabrina and Jimmy
Love great vegan food and vans? This account from Sabrina and Jimmy combines both along with shots of pure Americana on the road.
Sabrina and Jimmy on Instagram
Noël Russell
Noel manages to pack in van life, travels and working at a homeless shelter in Oakland as well as traveling with TWO dogs.
Martina Bisaz
One of the biggest Instagram accounts in her Swiss homecountry, Martina rolls around the world in her orange VW. Follow for the jaw-dropping shots of the Alps!
Caro Hardy
Our Van "Charlotte" that we rented in Portugal in June 2017 for a trip down through the Alegro region on a surf trip.
Renee Hahnel
Renee has visited 28 countries before the age of 26, but she isn't stopping there. Her professional background as a travel photographer shines through in her breath-taking shots from life on the road.
Jarett Juarez
Stunning shots of vans and waves along the north-western coast make Jarret's account a "must follow"!
Sam and Ryan
These two architects combined their love for tiny homes and travel to kit out an old school bus as their home after an impulse buy in their last year of college.
Tim
Tim's own personal hashtag is #redbusrolling, and he's on the move in Europe without any particular destination in mind.
Viktoria & Michael
Two Austrians travelling around Europe in a VW, their Instagram account is packed with insanely beautiful pics from the Alps. amonst other destinations.
Viktoria & Michael on Instagram
Katch and Ben
With a van called "The Tardis", their Instagram feed is full of snaps from rock climbing and riding through the desert.