Hoodies have got a recent surge in popularity and are a wardrobe essential going way beyond sportswear. They can look very stylish if you choose a good fit, opting for higher quality materials such as merino wool. Merino hoodies tend to be slim-fit, rather than oversized which can make them look professional enough to wear to the office if paired with a dress merino wool pants or over a short merino wool dress.
If you want the short version, here are our top recommendation for 2020:
Our pick for men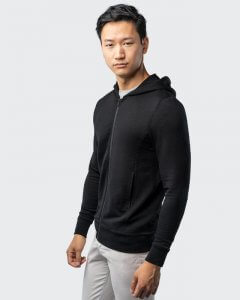 Material: 97% Merino Wool, 3% elastane for durability and stretch
Care: Machine wash, dry flat
Features: Hood, zip and pockets
Price (estimate): $165
---
Our pick for women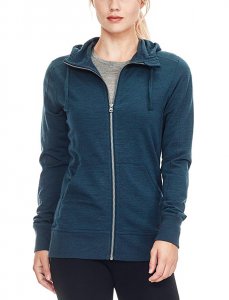 Material: RealFLEECE 87% Merino Wool, 10% Nylon (for strength), 3% Lycra (for shape retention)
Fabric weight: 200 g/m2 (very lightweight for a hoodie!)
Features: adjustable hood with drawcord and zip to regulate body temperature
Cut: hip length, meaning it layers easily
Care: machine washable in cold water. Do not tumble dry.
Estimated price (currently some options in sales): $130 – $220
The Icebreaker RealFLEECE collection brings a bit more chic so this hoodie has a lifestyle finish allowing to be worn for other activity such as travel of on the way to work. The touch of Lycra helps for shape retention. We love the fact that it exists in various color options.
See hoodies on Icebreaker | See on Amazon
---
Here are a couple of things to consider when choosing your merino wool hoodie. Below you will find a short list of good alternatives to our top pick above.
Also great for men
Also great for women