There is an old debate in the outdoor world or whether merino wool or synthetic is best for baselayers. We generally think the advantage of merino wool outperform synthetics as it is naturally insulating and will help regulate your temperature, so you'll find that they keep you warm when it colds. Counter-intuitively, insulating materials such as merino wool will also keep you cooler when it's warm outside.
Basically, merino wool leggings are the ideal base layer for chilly days spent outside.
If you're stuck for time, here are our top 2 picks to wear under you pants and keep your toasty through the Winter. For other use case, keep scrolling.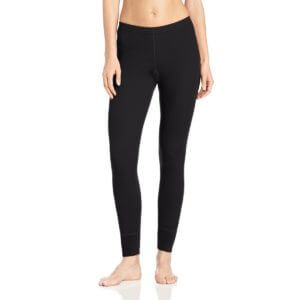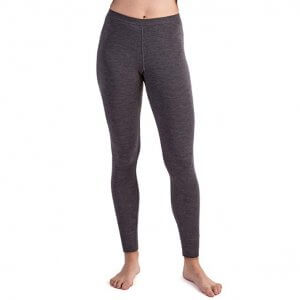 Merino wool leggings are perfect for situations where you have to walk to work in the cold, but then you are in a warm office.
Also, because merino wool is anti-bacterial, the leggings won't start to smell after going for a run in them (although you probably should wash them regularly anyway).
There are what seems like countless amount of options available and it can be hard to figure out which one to go for. We narrowed down the options to 15 different pairs of leggings and help you navigate with a table of content.
To choose the right pair of bottoms, take into consideration the weight of the fabric and the seasonal temperatures you are planning to wear it.
Merino wool is highly insulating, so you'll find that they keep you warm when it colds. Counter-intuitively, however, insulating materials such as merino wool will also keep you cooler when it's warm outside. The more wool it contains, the warmer and more odor resistant it is which might be a significant factor if you are going to places where washing is not in easy access.
To decide if you need a lightweight or a heavyweight, consider the activity you will be participating in to decide what weight to choose. For example, if you live in Canada and plan on ice fishing all winter, look at a heavy weight option. But if you plan on hiking a lot, choose a lightweight option. Remember that these bottoms are a little different then tops since you won't be able to take them off easily if you're too hot. However, merino wool is great at regulating your temperature.
There are a couple of features to look for when choosing your perfect pair of merino leggings:
Flatlock seams
It is a classic feature in outdoor clothing. The aim is to minimize chafing either when you wear your leggings under a pair of jeans and during outdoor activities such as hiking.
Crotch gussets
It is a piece of fabric sewn between the legs for greater freedom of movement and to prevent tight fitting shorts, pants, or crops from riding up. When people report a comment such as "really weird extra space in the crotch area", it is likely to be because there is no gusset! It makes a major difference!
Mesh panels
Some leggings offers panels on the side or beind the knees where we tend to overheat. The intent is to help is sweat management via ventilation.
Waist height and band width
Pay attention to the high versus low rise, depending on your preferences and under which pants you are considering wearing it. Some have a wider waist band which can be more uncomfortable under a pair of jeans but means that they can be worn on their own for running for exemple.
Bands or cuffs
The purpose is to help with mobility by letting you twist and turn. I noticed this when I have worn my usual pair of merino leggings as pyjama one night. They did not have band at the ankles which meant they could stay in place and were constantly rolling up my calves.
Blend and shape
100% merino wool leggings will naturally be shaggy after a couple of hours. That is why, if you aren't planning to wear them strictly as a baselayers under pants, you should consider the blend as it will influence how tight they are. Wool can become a bit baggy after a couple of hours of wear. That is why a blend with a touch of synthetic such as lycra can help having a more fitted form.
The best midweight merino wool baselayer leggings
Midweight merino is perfect for medium to active outdoor winter activities. Skiing, snowboarding, winter hiking, sledding with the kids, or shoveling the walk. The fabric weight is typically between 230 – 260 g/m2. This is enough for most winter activities and most likely to be too warm for the summer season.
Our pick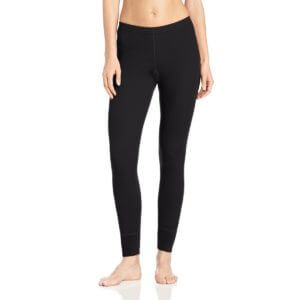 Material: 100% Merino Wool
Material weight: 230g/m2 (Midweight – best suited for moderate to cool conditions)
Microns (lower is softer): 18.5
Care: machine washable
Price range (estimate): $75
In terms of size, I am typically somewhere between M and L size when it comes to bottoms. I have tried the L which was a bit long and comfortable at the waist. They fit true to size but if you're looking for a tighter fit to wear under jeans, you should aim for a slightly smaller sizer than you'd normally take.
Even if they aren't particularly see-through, they tend to be fit loose to be truly worn or their own. In terms of price, these are of a fairly value for a 100% merino pair of leggings of this quality.
See on Minus33's Site | Check price on Amazon
Also great merino wool baselayer for women
Top picks midweight merino wool first layer leggings
What we mean with "first layer" is basically that they can be worn on their own, as opposed to a baselayers typically worn under another pair of pants. Keep in mind that if the one we recommend below are not see through, they may not be squat proof, due to the very nature of the wool. However, you are totally safe to go on a run or lounge around the house or run errands in town.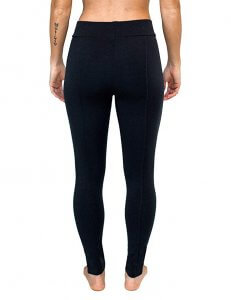 Thanks to the blend, these WoolX baselayer bottoms will satisfy the ones who don't want to limit their merino wool leggings to a underpants baselayer. These ones are designed to be worn on their own much more like normal sports leggings (understand: no baggy knees or "pyjama look" thanks to the Nylon and Spandex!).
They have a double fold waistband which enables you to customize your coverage and style for a flattering fit and comfort. They are great to wear to run in Winter or my preferred way, as a normal pair of clothings – but way more comfy than the rest of your wardrobe – with boots and a nice merino wool sweater or cardigan.
Note that they don't have flatlock seams even though I haven't experienced chafing wearing them, neither gusseted crotch which helps movement and fitting. That said, they are stretchy enough so you don't feel that you would rip them off in the crotch area.
Buying options:
See WoolX baselayers on Amazon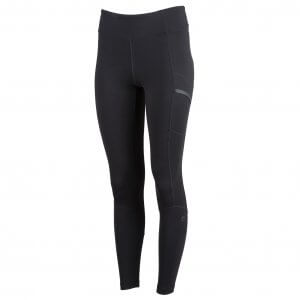 Newly added to their collection, this leggings – made of a layer of merino wool on the inner layer (only) and of Nylon and Spandex on the upper layer, has been designed for runners and athletes in mind.
Buying options:
---
If you are looking for something made of wool and yet very tight, still keep an eye on Lululemon. They have had models like the Keep The Heat Thermal Tight or Swiftly Wool Tight that could work for you.
---
'Good but' midweight merino wool leggings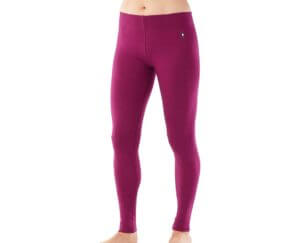 Smartwool Women's NTS Mid
Material: 100% Merino Wool
Material weight: 250g/m2 (Midweight – best suited to colder conditions)
Feature: large waist band so they could be worn on their own for running
The intend of these mid-weight baselayer bottoms from Smartwool is to keep you warm in cold conditions. You can wear them under a pair of pants or alone in slightly warmer conditions. Thanks to the wide waist band and their flatlock seams which are designed to reduce chaffing, they will be a comfortable fit for active outdoor activities such as snowboarding or hiking. The waist is mid-rise.
Unfortunately, the designs do not include a crotch gusset – the piece of fabric sewn between the legs for greater freedom of movement and to prevent tight fitting shorts, pants, or crops from riding up. As you can see in the photo below, it results on a wierd extra space in the crotch area.
---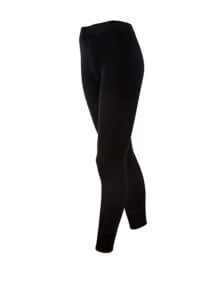 Material: 100% Merino Wool
Price range (estimate): $70
Care: machine-washable and can be tumble-dried.
I use to wear the Janus 100% wool bottom that I bought during a trip in Iceland. Overall they were great. They kept me very warm, and I could only wore them in the coldest destination of our trips or in Winter season. Keep in mind than bottom layers are more annoying than tops to take on and off if you get too warm, when switching often between indoors and outdoors.
They have a baggy feel after a couple of hours of wear, which is not a problem for comfort but I did not feel comfortable wear them under my dress as tights or on their own even if they aren't see through beside as a pyjama. After a couple of wash in the wash machine, I have noticed some holes. At the time, I wasn't very experienced with merino and care treatment and I was still over washing them, even though there was no need. Hanging them in the sun can be as efficient as washing them! That said, it is not a major issue either as I was only using them as an underlayer. They will for sure keep you warm and literally never smell. It lacks ankle bands to prevent roll up when sleeping!
Light and ultralight weight
Lightweight leggings are great for those activities in spring and summer. Fabric weight is typically under 200g/m2 and can go down to 160 – 170 g/m2 for ultralight. If you are planning on wearing them on their own while hiking for example, as suppose to a pyjama while camping, consider going for darker color as it is likely to be somewhat sheer.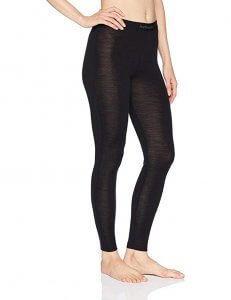 Fabric: 100% Merino Wool
Fabric weight: 175g/m2 (Ultralight – best suited for moderate to cool conditions)
Price range (estimate): $70
Icebreaker is one of the best known suppliers of merino wool gear. Some testers found that the leggings were a little shorter than expected – which can make sense if you are planning to wear them under your usual pants for extra warmth for example, but if you have longer legs, consider a size up.
---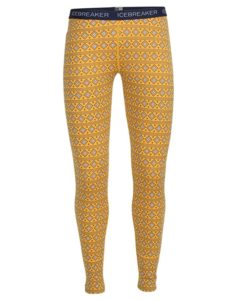 Fabric: 100% merino wool
Fabric weight: 200gm
Price range (estimate): $80 – $95
Oasis is Icebreaker's technical range of baselayers. They are perfect for sports such as hiking of snow activities. They include a gusseted crotch for range of motion, flatlock seams and an elastic waistband. It exists in black and other plain color but we love how they come in all sorts of graphics depending of the year.
They also do a 3/4 length version. For activities where you might wear high socks such as skiing, you could consider a 3/4 length. Choose a long pant option for everything else.
---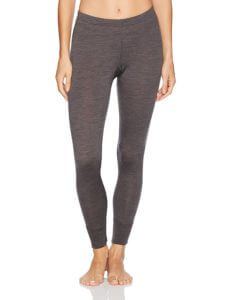 Material: 100% Merino Wool
Material weight: 170g/m2 (Ultralight – versatile all season performance)
Microns (lower is softer): 17.5
Price range (estimate): $60 – $70
These lightweight bottoms function best as a base layer in summer or on warmer spring or fall days. Testers found that the base layer fit true-to-size and you can wear them under jeans thanks to their lightweight material (whereas the mid-weight version will show if worn under jeans). Features such as flatlock seams, no tags and stretch cuff mean that these are designed for active wear.
Merino/Synthetic blend: the cheapest but…
The most common base layers available are made of wool, synthetics (like polypropylene, polyester, or "proprietary blends"), or a mix of both. Which fabric makes the best base layer is an age-old debate in the outdoor sphere. Wool and synthetics each have their advantages and disadvantages. Blends aim to the capture the benefits of each one, but also have their drawbacks.
Synthetic-merino blends aim to get the benefits of both fabrics while offering a high-quality base layer at a good price. Of course, these blends often also come with the negative features of their parent fabrics—odor retention, reduced insulation, and long drying times. Our top pick, the Smartwool Merino 150, is constructed of an 87 percent wool and 13 percent nylon fabric made of a yarn constructed of merino wool spun around a nylon core. We reached for blends when doing endurance activities like backpacking and mountaineering because we wanted the thermal qualities of wool plus the durability of synthetic.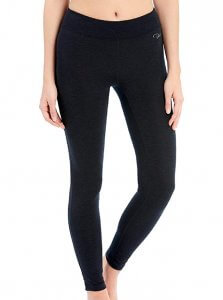 Material: 84% Polyester, 11% Merino Wool and 5% Spandex
Price range (estimate): $10 – $20
These leggings only have 11% merino wool in the material, so its odor resistance property aren't great. We still kept it on our selection list because you might still think it is acceptable for a pair of pants to not be odor resistant, as suppose to a top base layer. Keep in mind as well that because it is mostly made of synthetic material, it is not as breathable as the other wool pants. On the other hand, it will keep you warm and they make up for this with a very affordable price.

Heavyweight
Heavyweight merino will keep you warm and safe in the severest cold weather conditions. Running heavy equipment, ice fishing, stand hunting, or any other cold weather low activity environment.
The fabric weight is typically around 400 g/m2 which is almost twice the protection of the midweight. Most people won't need anything than warm but if you are planning some extreme outdoor activities where failing at staying warm would mean going home, there are two options for you: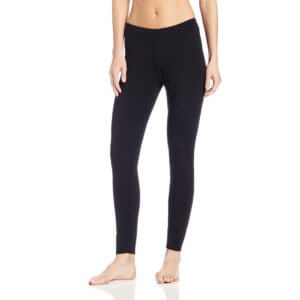 Material: 100% Merino Wool
Material weight: 400g/m2 (Heavyweight – built for the coldest conditions)
Microns (lower is softer): 18.5
Price range (estimate): $72 – $115
Outside in very cold conditions? These heavyweight leggings might be what you're looking for! Testers found that these leggings kept them cozy in brutally cold winters in Northern Wisconsin or while waiting around outside in low 20 degree with high windchill factors. They are Minus33 heaviest base layer at 400 g/m, but they come with all the usual Minus33 baselayer features such as flatlock seams, stretch cuffs and absence of tags for comfort.