When travelling around the world, I use to have a pair of ExOfficio Undies. While I really loved both the look and how practically dried it would come out of the wash machine, they were not the best at wicking sweat and moisture while in Thailand or the Caribbean island! And because merino wool is highly insulating, they are the best to keep you warm when it's cold.
If you are already familiar with merino wool underwear and just need to pick up the best of 2019, jump directly to our recommendations. If you feel like you need to dig a bit more before to commit and need a bit more guidance to understand what matters when it comes to choose the right underwear, have a closer look to our FAQ section just below. And if you have more questions, just leave one in the comments. We will be happy to help.
What to consider when choosing your merino wool underwear:
Best bottom underwear
When considering the cut to go for, think of activities you will be doing. I wouldn't recommend a thong for hiking for example, as it is likely to create some irritation over time. If you are planning on wearing them everyday, keep in mind a low waist will suits your casual pants better. And while the price tag might seem high, durability is important when it comes to undies and they need regular wash. We were careful to pick the best wool quality here as it makes the difference on the long term so it will be worthwhile the investment.
Here is our pick:
Our Women's Pick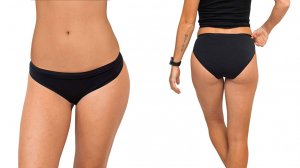 Fabric: 83% Australian Merino Wool | 12% Nylon | 5% Spandex
Fabric weight: 180g/m
Features: Forward set side seams (which is different than seamless!)
Price range (estimate): $26
With the touch of Spandex, these have been designed to move with you, so you can focus on your form. There are the perfect all-around and can be used both for training and for traveling.
See on WoolX website | Check on Amazon
---
Also great: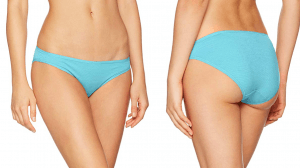 Fabric: 100% merino wool
Care: Machine wash
Price range (estimate): $30
Similar cut than the one above but with a 100% merino wool fabric. Features include: tagless and flatlock seams (yay!) to reduce chafing and next-to-skin comfort. The crotch panel have been designed to let you (and your lady parts) breathe easy. Exists in many colors including some stripes pattern.
---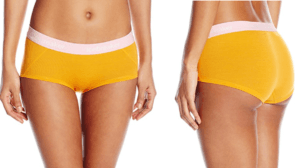 Material: 83% Merino Wool, 12% Nylon, 5% LYCRA
Fabric Weight: 150g/m (Ultralight)
Construction: Offset seams, best for daily wear
Care: Machine Wash
Price range (estimate): $30 – $40
If you want more coverage or generally finds that panties tend to ride up for you, this shape will suit you better. They look very sporty with the wide band. It is nice to make sure they don't roll up and look flattering but think twice if you are also intend to wear another long baseyers in top of it with a similar wide waistband that lies flat against your skin. They have moved the "normal" side seam forward for comfort, but there are still seam. The Lycra really helps with shape retention and avoid the shaggy feel after a few hours of wear.
---
Runner up: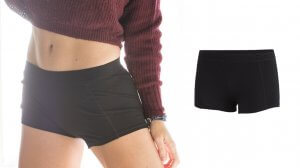 Fabric: 84% Merino Wool, 12% Nylon, 4% Spandex
Fabric weight: 180g
Features: Flatlocked seams and removable care label for max comfort
Price range (estimate): $30
Note that the wool weight is on the thicker side compared to some other bottom underwear. Ridge has iterated on the design of the original waist band after getting feedback and it is now one of the most popular boyshort among female backpackers. Exists in several colors.
---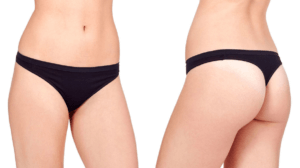 Material: 83% Merino Wool, 12% Nylon, 5% LYCRA
Fabric Weight: 150g/m (Ultralight)
Construction: Offset seams
Best For: Daily wear, workout
Care: Machine Wash
Price range (estimate): $28
Thongs such as this won't be ideal for any long outdoor activities as you won't beneficiate from the insulating property of the merino wool and it will eventually end up to be irritating. That said this is the best cut if you want to keep your underwear invisible and therefore it is a very popular model for daily wear, casual travel or workout under a tight leggings or short.
---
Best sports bra
The real advantage for a merino wool bra's no matter if it is to work out or to travel is that you can go a couple of days without washing it.
Our Women's Pick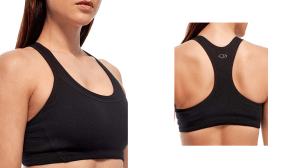 Fabric: 50 % Merino wool / 33 % TENCEL® / 12 % Nylon / 5 % LYCRA
Construction: Flat seams, mesh fabric, added cup
Care: Machine wash
Price range (estimate): $65
This is the most supportive merino wool bra on the market at the moment. I used to own one of the predecessors: The Rush, made of 100% merino which was incredibly odor resistant. The new model has some Tencel and Nylon for resistance as well as Lycra which helps for shape retention.
I am a size D and I find it good enough for my CrossFit training which typically include some running and weightlifting even if there is no elastic or support infrastructure as such. That fact means it wicks really well. To allow even better sweat management, they have added a mesh fabric placed in high-sweat zones for ventilation.
To prevent the 'sports-bra-monoboob' issue that can come with this type of bra, they have added cup inserts that contours to your shape. It is also convenient when travelling as you could use it as a spontaneous swimsuit if necessary as it won't be see through in the darker colors.
See on Icebreaker's website | Check price on Amazon
---
Also great: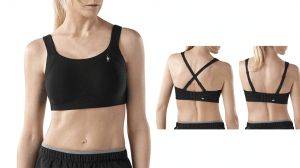 Fabric: Lining: 75% Merino Wool, 25% polyester / Outer shell: 47% merino wool, 46% polyester, 7% elastane
Care: Machine Wash Cold Gentle Cycle
Price estimate: $60
Good sports bra as well with straps that give you the option of a normal bra fit or cross over.
---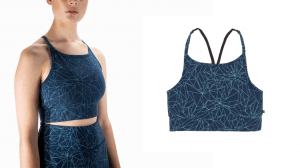 Fabric: 66% Merino wool, 28% nylon, 6% elastane
Features: Removable cups, adjustable straps
Care: Wash at 30ºC on a gentle wool cycle (max 400)
Price estimate: £50 (the brand is based in the UK)
This bra offers medium support with concealed elasticated under bust band, so a bit less support than the 2 above but still plenty for most activities such as yoga. We like the fact that the straps are adjustable. And the big plus is that it is the most fashionable merino wool underwear!
Best everyday bra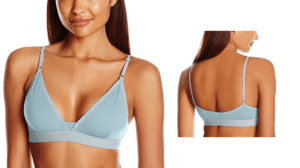 Everyday bra: Icebreaker Merino Women's Siren Bra
Material: 83% Merino Wool, 12% Nylon, 5% LYCRA
Fabric Weight: 150g/m (Ultralight)
Construction: No side seam construction, Adjustable straps
Best for: Daily wear, workout, A-B cup
Care: Machine Wash
Price range (estimate): $34.56 – $50.00
It looks more like a normal bra, minus the underwire. It is probably not good enough for running or burpees, especially for size C and above, but it is comfortable enough for daily wear and yoga type of activity. It comes with removable cups (if you don't want nipples to show through) and adjustable straps which can be a plus for some.
---
Also great: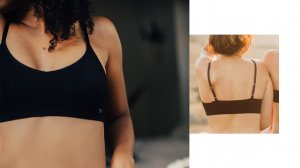 Fabric: 81% Merino wool, 14% Nylon, 5% Spandex
Features: Adjustable straps that can be worn crossed or uncrossed, flat seams
Care: Machine washable
Price estimate: $30
Simple daily bra that aims at maximum comfort. It has a two inch wide band for support, no tag and flat seams.
Best long underwear bottoms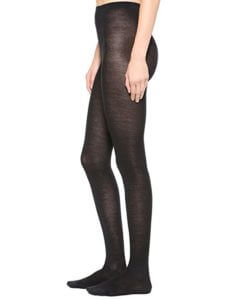 Best Merino Wool Tights: Wolford's Merino Wool Tights
Material: 49% virgin wool, 49% nylon, 2% elastane (in waistband)
Fabric Weight: 150g/m (Ultralight)
Construction: Flat seams, reinforcement on the sole
Care: Machine Wash, 30°C on a gentle cycle
Price range (estimate): $55 – $80.00
Very high quality tights with flat seams and some reinforcement under the foot, both at the toe and heel. Available in several colours.
If you are looking for a pair of long bottom baselayer, read our in-depth review of 15 pairs of merino wool leggings here, ordered based on fabric weight and activity type. We can also check our recommendation for undershirts and camisoles here.